1390 Size Non-Metal CO2 Laser Engraving Machine
1390 Size Non-Metal CO2 Laser Engraving Machine
CNICON

Kunshan, Jiangsu, China

7 Days

10 Sets Per Day
The application of Non-metal Co2 Laser Cutting Machine fabric industry cutting.
Fabric , leather, jeans fabric cutting now begins cutting by laser cutting machine . Non-Metal Laser Cutting Machine with high cutting speed, besides laser cutting machine can instead knife cutting. Cutting pattern variety.Non-Metal Laser Cutting Machine suitable for trade mark, garments, leather product, cloth toy, embroidery product, mold, denim, textile, paper product, etc.
Materials Applicable:leather, textile, rubber, bamboo and wood product, bag, shoe, toy, suitcase.
1390 Size Non-Metal CO2 Laser Engraving Machine
---
Metalloid laser cutting machine is designed for the acrylic board, plastic sheet, electronic film, leather, wood cutting needs of the specially designed and manufactured models, originality of the design of the board cut to reach the imagination smoothing, the system work very stable.
Product Function
1. Using the domestic top technology developed high-frequency uniform power split CO2 laser, laser power can be uniform output 24 hours , abundant energy, anti-interference ability.
2. The operating system is close to the ergonomic design, easy to operate, comfortable; power system using Taiwan's linear guide. movement locus smooth and delicate, speed accuracy increased.
3. The optical system using the reflection and full-permeability silicon lens beam quality fine and stable, cutting depth, high precision carving.
4. Intelligent software editing, the user can according to the processing needs, set the acceleration and deceleration / uniform mode of operation, graphic output can be achieved cleaning, hook line, cut a one-time completion, with compatible AUTOCAD, CORELDRAW, PHOTOSHOP and other software.
---
Industry Application
Widely used in craft gifts, packaging system board, daily necessities model, shadow carving leather, advertising decoration, bamboo products, electronic appliances, lighting, paper products, crystal word, mobile phone screen, PET, mobile phone accessories and other die production.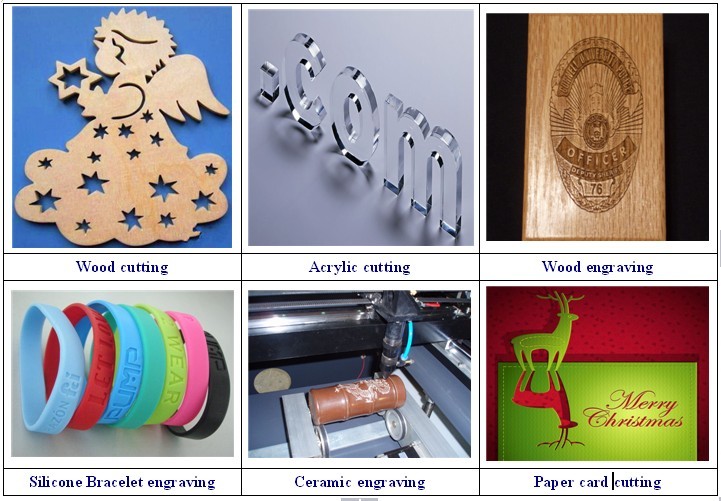 ---
Technical Parameters

Technology Specifications

Type

CN-CC60

CN-CC100

CN-CC200

Laser Power

60W

100W

200W

Laser Wavelength

10.6μm

Min Line Width

0.05mm

Cutting Range

600*700mm/Optional

Cutting Accuracy

0.1mm

Cooling Type

Air Cooling

Water Cooling

Water Cooling

Positioning

CCD/Red Light

Machine Power

0.8W

1.5KW

2KW

Power Supply

AC220V/50HZ
Non-metal laser cutting machine size can choose by customer product requirement.