Split Type Co2 Laser Engraving Machine for Heavy Stone Carving Requirements
Split Type Co2 Laser Engraving Machine for Heavy Stone Carving Requirements
CNICON

Kunshan, Jiangsu, China

7 Days

10 Sets Per Day
CN series split laser engraving machine is to facilitate the majority of customers on the heavy stone carving requirements and the development of a carving model.This design scheme changes the way that traditional models can only put materials on the machine for carving.
For heavy materials, such as marble, the upper part of the machine can be moved to the material for carving, thus avoiding the cumbersome handling of heavy materials and solving the problem of limited load-bearing capacity of the platform.
The upper and lower parts of the machine can be lifted and lowered, making it easier for customers to carve the material with large thickness changes.
CN series split laser engraving machine with its unique design, superb technology, has become the stone carving, funeral supplies carving processing and other industries favored preferred products.
Split Type Co2 Laser Engraving Machine for Heavy Stone Carving Requirements (1300*900MM/1600*1000MM)
---
Application Industry
Marble carving, advertising, gift packaging, models, etc
Applicable Materials
Mongolian black, marble, wood products, acrylic, crystal, cloth, paper products, leather, rubber, ceramic tile, glass and other non-metallic materials
---
Sample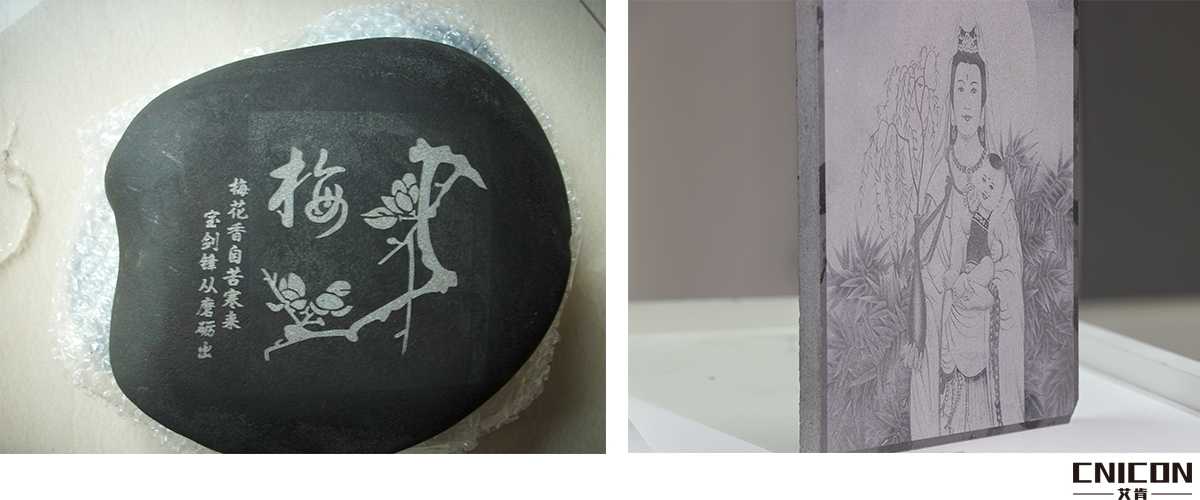 ---
Product Parameters

Product model: CN1390 split stone image carving machine --60W
Laser Type: CO2 sealed glass tube laser, water cooled, 10.6um
Cooling method: water cooling
Engraving scanning speed: 0-60000mm/min
Cutting speed : 0-30000mm/min
Laser energy control : 1-100% software Settings
Minimum formed : Chinese characters 2.0mm×2.0mm English 1.0mm×1.0mm
Maximum scanning accuracy : 2500DPI
Positioning accuracy : ≤±0.01mm
Supported Graphic Format : PLT, AI, BMP, DST, DXF
Support software : CORELDRAW, PHOTOSHOP, AUTOCAD, tajima embroidery software, various clothing CAD software
Separations : have sparations
Effective format : 1300mm×900mm